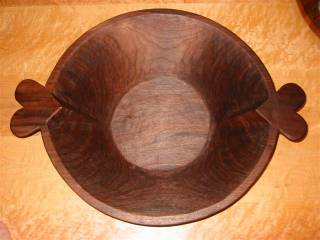 As shown: 19" x 6" (Approx.) in Black Walnut
From the private collection of Ferris & Ann Maloof

This is a truly inspired bowl. It is actually our Appalachian Round Bowl with these very special heart handles. A customer wanted to give his wife a special bowl for their 40th wedding anniversary.

Rip decided to make the handles into the heart shapes shown here, with the point of the heart extending into the bowl, giving it a three-dimensional effect.

Needless to say, she was thrilled with the result. That is why we call this bowl the "anniversary bowl".

We have made this bowl several times in smaller size and the results are equally special. Also available, of course, in Cherry and Tiger Maple."